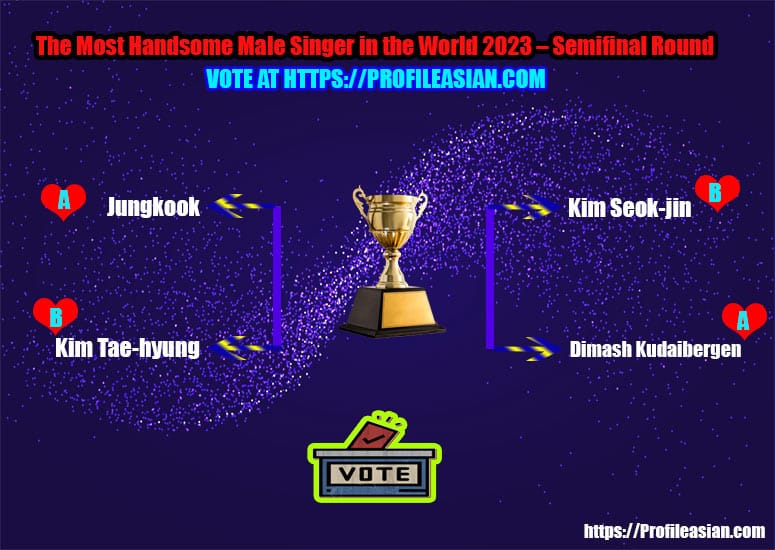 The Elimination Round 'Handsome Male Singer in the World 2023' is now voting Open Online Poll Website.#HandsomeMaleSingerSemifinal #HandsomeMaleSingerSemifinal2023 #HandsomeMaleSingerintheworldSemifinal2023.
Handsome Male Singer Group Elimination Result A:
Jungkook 115,659 Votes, Dimash Kudaibergen 90,202 Votes, Park Jimin 9,220 Votes, Kim Hyun Joong 5,181 Votes, Justin Bieber 839 Votes, Adam Lambert 240 Votes, Usher  160 Votes.
Handsome Male Singer Group Elimination Result B:
Kim Seok-jin 209,173 Votes, Kim Tae-hyung 165,911 Votes, Xiao Zhan 5,388 Votes, Justin Timberlake 925 Votes, Wang Yibo 664 Votes, Macklemore 146 Votes, Zayn Malik 129 Votes.
Jungkook Group A 1st Place Kim Tae-hyung Group B 2nd Place.
Dimash Kudaibergen  Group A 2nd Place Kim Seok-jin
Group B 1st Place.
Each poll will be open for 90 days.
30 Min 3 Votes, after 30 Min 3 votes, and again to votes.
If Your Choice Jungkook Vs Kim Tae-hyung , Kim Seok-jin Vs Dimash Kudaibergen Click Vote Completed.
2 Semifinalist will be finalists "Handsome Male Singer"
If You Should Facebook, Twitter, Instagram Share Automatic Votes Count.
This poll will be closed on January 31, 2024 UTC +6 Time Zone.
Jungkook Vs Kim Tae-hyung Handsome Male Singer Semifinalis – Group A: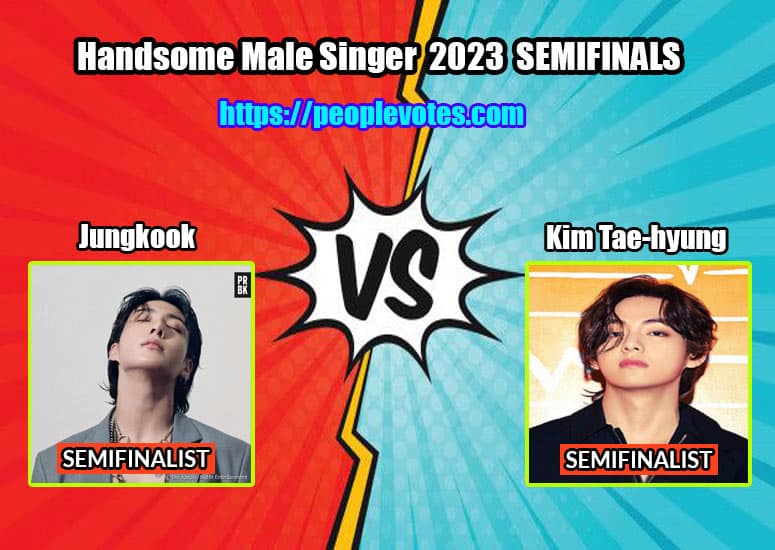 Kim Seok-jin Vs Dimash Kudaibergen Handsome Male Singer Semifinalis – Group B: