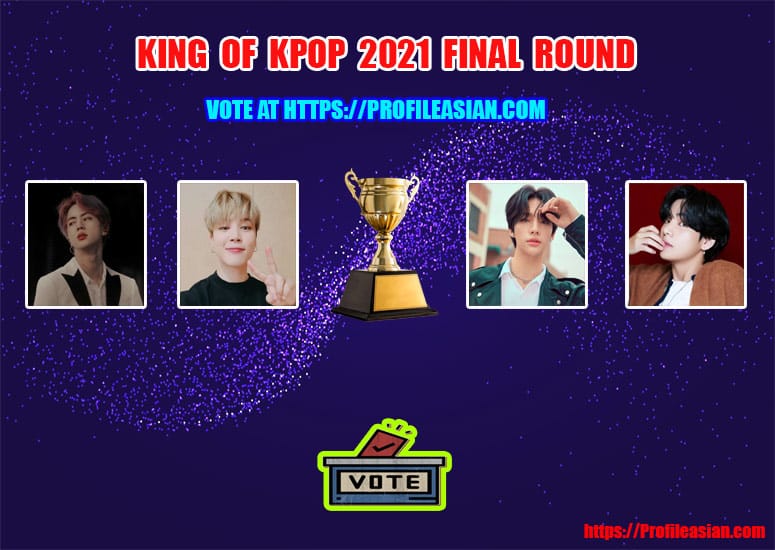 The Celebrity Awards is considered to be the most prestigious international award. This prestigious award is available in various fields like Music Awards, Billboard Music Awards, Drama Awards, Turkish Awards, American Awards, Kpop Awards, Actors Awards, Actress Awards.
Celebrity Power is the world's fastest growing in the world. Peoplevotes.com Post Music, Actors, Actress, Kpop create poll Your Choice The Best. Extend over all things Hollywood actors, Hollywood actress, Hollywood Life, Hollywood Reporter, Hollywood Gossip, Hollywood Drama Movies, Singer, Kpop, Kpop Song, Awards, Turkish awards, Pop Music, Turkish Series.
---
The Best Female Dancer in KPOP 2022?
The Most Beautiful KPOP Female Idols 2022
---
Who is the King Of Kpop 2021:
The finalis for 'King Of Kpop 2021 Final' finalis is now voting Open Online Poll Website. #KingOfKpop2021Final # KingOfKpop #KingOfKpop2021 .
Six King Of Kpop 2021 Semifinals Win Result Kim Seokjin (3,005 Votes), Kim Taehyung (2,588 Votes), Hyunjin (2,910 Votes), Jungkook (1,772 Votes), Jae (1,040 Votes), Jimin (3,443 Votes).
This poll will be open for 40 days.
30 Min 5 Votes, after 30 Min 5 votes, and again to votes.
If You Should Facebook, Twitter, Instagram Share Automatic Votes Count.
This poll will be closed on January , 2021 UTC +6 Time Zone.
Rules :
You Can Vote Every 30 Minutes 5 Votes.
Vote end on :
May, 31, 2022
Tip :
Turn On Your Alarm And Set It To Every 30 Min.
Happy Voting!
Share And Boost Your Vote!